Hopes that ongoing peace talks in Cuba were about to bring Colombia's half-century civil war to an end seem to be fading fast, after FARC rebels killed 19 soldiers in two regions and captured a former US Marine.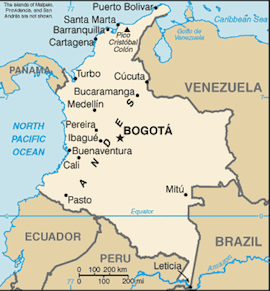 Now Colombian President Juan Manuel Santos says that he is sending the army to launch a "strong offensive" against FARC to prove that they have the military forces to continue to fight the war.
US Ambassador Michael McKinley says that the captured American, Kevin Sutay, is not active military and entered Colombia's military hot zone as a "private citizen," urging rebels to release him. FARC described Sutay as a "mercenary."
The Red Cross is in talks with FARC about securing Sutay's release, but the bizarre circumstances of his capture, he was found wandering alone in a rebel-filled jungle in the nation's southeast, are likely to fuel a lot of speculation.
The US has been eagerly backing Colombia against FARC, and while indications are that Sutay was not a member of the US force deployed to Colombia, his capture certainly complicates matters.