Secretary of State John Kerry is heading to Israel for a high-profile visit aimed at restarting peace talks with the Palestinian Authority, but this effort may be for naught as Israel has announced yet another settlement expansion.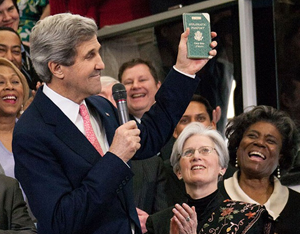 The new expansion comes in Har Homa, a particularly controversial settlement built in occupied East Jerusalem, with officials conceding that some Palestinian lands were seized for the initial construction.
Palestinian officials condemned the move, saying it was proof that Israel is trying to sabotage Kerry's efforts to restart talks. The US has so far been mum on the issue, though privately they have expressed anger in the past when Israel has timed expansions seemingly to spite US visits.
This expansion seems liable to be particularly irksome, since it is relatively small and comes as Kerry has been so publicly working on the peace talks, trying to convince the PA to scrap preconditions and threatening Abbas to get him to scrap demands for an "official" settlement freeze by arguing that a de facto one is mostly already in place.