A suicide bomber from an as-yet-unidentified faction has attacked a funeral procession in Mardan, Pakistan today, killing at least 35 people and wounding scores of others. Among the slain was Imran Mohmand, a newly elected provincial MP from the district.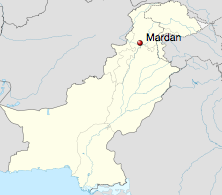 Police say the attacker came on foot and detonated at the front of the procession, near Mohmand, the presumptive target. Before joining the Pakistani Tehreek-e Insaf (PTI), Mohmand was a campaigner for the Awami National Party (ANP), a secular Pashtun party that has often run afoul of the various Taliban factions in Pakistan.
Mohmand is the second PTI MP killed in the past two weeks in the province, after Fareed Khan was assassinated by militants in Hangu. The PTI took over the Khyber-Pakhtunkhwah Province in last month's elections.
The funeral was for the owner of a local gas station in Mardan who was killed yesterday by unknown gunmen, and included an impressive number of high ranking provincial figures, as well as JUI-F leader Maulana Qasim, who was to lead the funeral prayers. Qasim was unharmed in the attack.