Saturday marks the 46th anniversary of the Israeli attack on the USS Liberty, a Naval spy ship in the Mediterranean Sea. The attack killed 34 American crew members and wounded 171 others.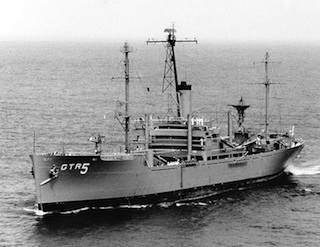 The incident came during the Six-Day War of 1967, during which Israeli occupied large chunks of territory from its Arab neighbors. The attack on the USS Liberty was America's only involvement in the conflict.
The attack began with two Israeli Mirage III fighter jets attacking the ship, claiming they assumed the antenna was a gun, and began attacking the US ship with rockets. The attacks escalated despite the ship being unable to return fire in any form, with torpedoes hitting the ship and napalm bombs setting it ablaze.
The immediate US response was to deploy warplanes against Egypt on the assumption that they might conceivably have been the attackers. Though never confirmed, some reports have persisted that the planes had nuclear weapons on board, though they were thankfully recalled at the last moment when it was revealed that it was an Israeli attack.
Israel claimed that they assumed the USS Liberty was an Egyptian destroyer, despite it flying a US flag and having clearly identified Latin alphabet letters all over it. The US rejected the claim but accepted an Israeli apology, along with a $6 million payment made in 1980 to cover a fraction of the repair costs for almost destroying the ship.
Israel's own investigations into the matter throw their own story into doubt, with a 1982 IDF History Department Report (pdf) noting that the Israeli Navy knew hours before the attack that the ship was from the US Navy, and then goes on to speculate that the ground controllers directing the attack were just never told about this.  It then brushed off the whole incident as "an innocent mistake."
There were some limited US military inquiries into the matter but nothing in the way of Congressional investigations, and 46 years later survivors of the attack are still pressing Congress on the incident, saying it's high time they got around to actually probing unprovoked attacks on a US Navy ship in international waters.
The survivors noted the incongruence between the treatment of the USS Liberty attack and the September 11, 2012 Benghazi consulate attack, saying it made no sense that Congress has dedicated months to that attack while refusing even nominal hearings on the USS Liberty, an attack which had many, many more casualties.
USS Liberty Veterans Association

USS Liberty Memorial