Faced with large and growing protests across several major cities, Turkish Prime Minister Recep Tayyip Erdogan angrily blamed his political opponents for the uprising, insisting that what amounted to a "few looters" were being overhyped by the political opposition.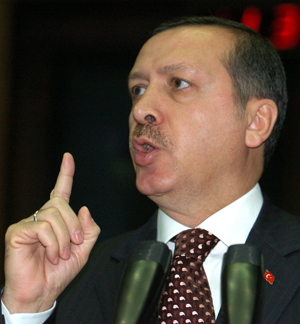 "This is about my ruling party, myself and the looming municipality elections in Istanbul and efforts to make the AK Party lose votes here," Erdogan insisted, adding that the use of Twitter to instigate protests was proof that the social media outlet is a "danger to society."
"There is now a menace which is called Twitter," Ergodan insisted, adding that it was spreading "lies" about his government.  With Turkish media offering little in the way of coverage to the protests, many have been turning to Twitter to get updates from the people actually at the sites.
The "problem" surrounding Twitter stems from Turkey's draconian media policies, as the more effort is put into keeping the mainstream press palatable to the ruling party the less value it is to average people wanting to know what is actually going on, and the more they will inevitably turn to outlets like Twitter.