Officials from the RSK Mikoyan company have confirmed plans to sign a deal with the Syrian government to sell "more than 10" MiG-29M fighter jets to them. The exact number was not disclosed.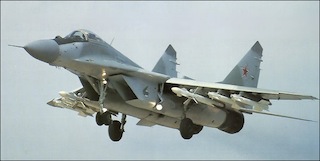 Russian officials have made much of providing Syria with primarily defensive weapons, which are meant to deter foreign invasions of Syria, and have sought to avoid weapons that could be used in the ongoing civil war.
The MiG-29 is somewhat different, is it does have some limited capabilities in attacking ground forces and could conceivably open up Russia to new criticism. Still, the warplanes are primarily designed for air-to-air combat, and with the rebels having no air force, it seems reasonable to assume they will be of only minor utility in the ongoing war.
MiG-29s and their variants have been the backbone of the Russian Air Force since the mid-1980s. Syria has a small number of the original model of the plane, but the new acquisitions would be a significant upgrade, and combined with the S-300 anti-aircraft batteries could make it difficult for foreign invaders to maintain air superiority in an attack on Syria.