The car bombings against the Turkish border town of Reyhanli were quickly blamed on the Syrian government by Turkish officials. MP Mehmet Ediboglu, a key figure in the opposition-leading CHP (Republican People's Party) sees Jabhat al-Nusra as the culprit, however.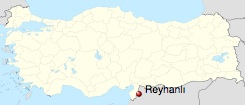 Ediboglu cited the tactics as a hallmark of the al-Qaeda-linked al-Nusra fighters, and said the strike was obviously "the work of a very professional terrorist organization." He also noted that Reyhanli is across the border from an al-Nusra-held border crossing.
The Reyhanli bombings, which killed 46 on Saturday, have sparked protests among Turkey's nationalists and leftists, who say the government's backing of rebels in Syria's Civil War has led to the spillover violence.
So far no group has claimed credit for the attacks, but Turkey arrested nine people on Sunday, all of them Turkish citizens accused of ties to a "Marxist" organization with ties to the Assad government.