Hundreds of anti-government protesters took to the streets of Antakya, Turkey on Sunday, condemning government policy as the major cause of Saturday's car bombings in Reyhanli, which killed 46.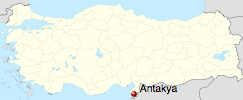 The protesters included both nationalists and leftists, who accused the Erdogan government of meddling in Syria's ongoing civil war, and inviting "jihadist murderers" into southern Turkey by overtly backing the rebels.
"Erdogan has made a big mistake. Syria was a neighbour with a fire – we should have taken water to put it out, not gas to make it flare up," noted one of the protest leaders in a speech.
Though exactly who launched the attack is so far unclear, officials were quick to blame the Syrian government, despite all those arrested for the attack being Turkish citizens. The protests suggest that not everyone is buying this, and is seeing the spillover violence as blowback for the government's hasty decision to take sides in the war.
Last 5 posts by Jason Ditz