A pair of car bombs tore through the busiest street of Reyhanli on Saturday, killing at least 46 people and wounding 140 others. The Turkish government announced that it is blaming a Marxist group, which it insists has ties to Syria.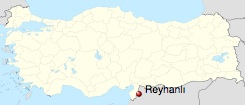 Reyhanli is a town along the border with Syria, as well as near the Mediterranean Coast. It's proximity has made it a key trading center for the shipment of goods back and forth across the border into Syria's industrial region. All of that stopped when Syria's Civil War broke out.
Reyhanli is also one of the most ethnically split of Turkish towns, with large Arab, Turkish and Caucasian populations. In the wake of the attacks, ethnic tensions are seen on the rise.
So far no group has claimed credit for the attacks, but if it does turn out to have a link to Syria it would be by far the deadliest single incident in Turkey resulting from the ongoing war.
Turkish Prime Minister Recep Tayyip Erdogan called for calm in the wake of the attacks, while Foreign Minister Ahmet Davutoglu demanded international action against Syria in retaliation.
Last 5 posts by Jason Ditz