For most countries last week's Boston Marathon bombing was a grim reminder that violence can break out anywhere, at any time. For a select few it became a huge inconvenience, as with the Czech Republic, whose ambassador has had to explain to Americans that Czechs and Chechens aren't the same thing at all.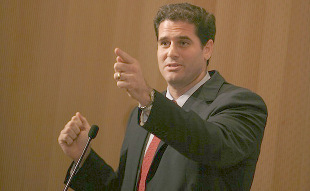 And then there's Israel, who, if you listen to top Netanyahu aide Ron Dermer, may as well have just hit the lottery with this bombing. Dermer is seeing it as a "big boost" that is going to make the average American more pro-Israel and even more eager to increase aid to them.
In the video interview Dermer, seen as one of the front-runners for the next Israeli Ambassador to the United States, insisted that there was a "big change" in a pro-Israel direction among Americans after 9/11, adding that he believes the bombing in Boston will convince people to "identify more with Israel and its struggle against terrorism."
Though Dermer's comments are likely to shock the uninitiated, they reflect long-standing beliefs among Israel's ruling Likud Party, with Prime Minister Benjamin Netanyahu famously causing controversy in 2008 when he told university students that 9/11 was hugely beneficial for Israel.