Less than a week after a violent crackdown on detainees, Guantanamo Bay has a new problem, as hunger strikes are taking their toll and more and more prisoners are in failing health.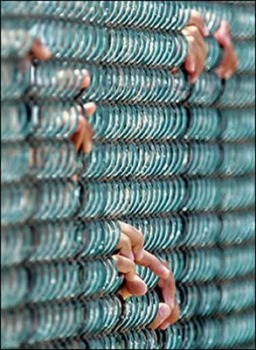 "Code yellow," an emergency where a prisoner has lost consciousness, is now a regular event in the cellblocks, forcing medics to rush in and see if the detainee is still alive, or just passed out from hunger. So far, it has been the later, but as the strike continues it will eventually lead to deaths.
Over 100 prisoners are now believed to be involved in the hunger strike, which began in February to protest the confiscation of detainees' Qurans during a security sweep. The Pentagon initially claimed only nine strikers, but now admit to over 50. They claim the rest aren't "official" hunger strikers, and accused them of "cheating" and sneaking snacks.
Lawyers and human rights groups have urged reforms at the prison to end the strike, as well as releasing people already exonerated instead of just keeping them forever. The military seems to be taking the opposite approach, punishing strikers and putting everyone in solitary cells in the hopes of scaring them into abandoning the strike. With many detainees already cleared for release and apparently going nowhere, they remain convinced they have nothing to lose.