With elections in Pakistan scheduled for next month, the various political parties are holding major meetings to get ready for the campaign. Those meetings are finding themselves an inviting target to militant factions.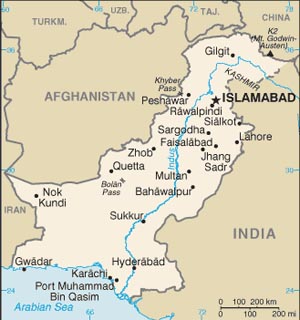 Today, a major suicide attack was carried out against the Awami National Party's meeting in Peshawar, killing 18 people, including a number of police. 49 others were wounded in the attack, which appears to have targeted ANP leader Haroon Bilour's car. Bilour, whose father Bashir Bilour was killed in a similar attack last year, was unharmed in the attack.
The Tehreek-e Taliban Pakistan (TTP) immediately took credit for the attack, and apologized for injuring Bilour's uncle Ghulam, insisting they had already announced "amnesty" for him for his past political career and that the younger Haroon was the intended target.
While this was the largest attack on a political rally today, it was by no means the only one. Another attack targeted a convoy of the Pakistani Muslim League-N in Balochistan Province, killing four people in the lead car. Sanaullah Zehri, the party's provincial leader, is believed to have been the target, and while he survived his son, brother and nephew were among the slain.