Though the White House conceded that the rhetoric coming out of North Korea has not been followed with any significant changes to their mobilization, the US continues to deploy military hardware in the Korean Peninsula, raising the stakes in a war of words.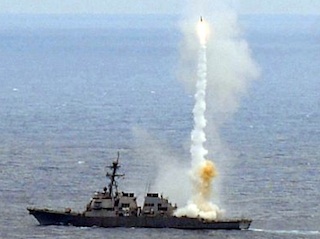 Starting with nuclear-capable bombers flying along the frontier between North and South Korea, the US added F-22 stealth fighters over the weekend and has now deployed the USS Fitzgerald, a heavily armed destroyer, off the Korean coast.
The USS Fitzgerald's primary use has been its radar systems, and it has long been part of the US Navy's missile detection/defense system. This is the justification of the deployment; North Korea has threatened to launch missile strikes against the US mainland.
Yet realistically North Korea's missile systems are nowhere near as advanced as advertised, and experts say they couldn't even theoretically launch the sort of attacks they have threatened. Thus the Fitzgerald, assuming it is used for anything at all, would see its deployment off the coast primarily as a platform for launching missiles against North Korea, rather than defending against the largely illusory threat.