Afghan President Hamid Karzai delivered a nationally televised speech today accusing US occupation forces of "collusion" with the Taliban aimed at convincing his government that a large presence of international forces was still needed.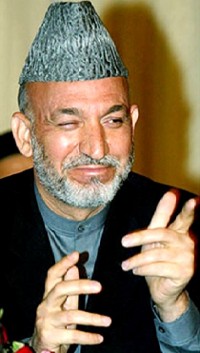 Karzai cited a pair of suicide bombings on Saturday, targeting a Khost checkpoint and the Defense Ministry, claiming they were aimed specifically at "frightening us into thinking that if the foreigners are not in Afghanistan, we would be facing these sorts of incidents."
Gen. Joseph Dunford insisted Karzai's claims were "categorically false," and insisted that it was "understandable" that tensions were rising with the Afghan government because of the balance between NATO's need to "complete its mission" and Afghans' hope to exercise more sovereignty.
The Karzai government has also announced a full ban on all NATO troops entering university grounds nationwide, and accused the CIA of playing a role in the recent kidnapping of one student at Kandahar University, and of roles in the capture and abuse of other students.