Afghan officials say that 17 soldiers from the Afghan National Army are dead today in the aftermath of a weekend incident in which Taliban forces ambushed a supply convoy in Badakhshan, in the nation's far northeast, killing one soldier and capturing 22 others.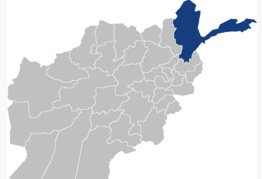 Tribal officials had been trying to negotiate the release of the captured soldiers, but eventually were only able to secure the release of 6 out of 22. The other 16 were executed and their bodies turned over to the tribal elders.
Taliban spokesman Zabiullah Mujahid confirmed the toll but disputed the account, claiming that all of the slain had died as a result of the ambush, and that their bodies were abandoned by other soldiers and simply returned by the Taliban. He says one wounded soldier was captured, but did not survive.
Badakhshan Province is a sparsely populated mountain region and has rarely been involved in the Afghan War in any significant way, with very little tradition of Taliban influence, even before the war.