White House officials say that President Obama has decided to visit Israel for the first time in his presidency at some point in mid-March, with March 21 being tapped as a likely date.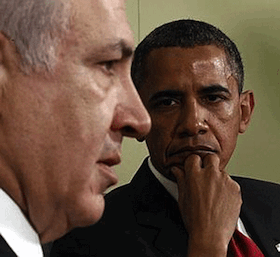 While the announcement is a diplomatic coup for Israeli Prime Minister Benjamin Netanyahu, it will also raise questions about what concessions he may have made. Late last month, President Obama reportedly passed him the message that he would not visit unless Israel made serious progress on peace talks with the Palestinians.
The reports about the Obama condition came out January 27, and White House officials say that the agreement to visit was reached in a telephone conversation with Netanyahu on January 28, making it a virtual certainty that this was part of the discussion, though officials have yet to disclose that.
At the moment Netanyahu is still in the process of getting his coalition government together, but having campaigned to the hard right on the Palestinian issue, it may be difficult for him to make any meaningful concessions to restart peace talks, particularly after over two years stalled under his watch. That said, the likely inclusion of Yair Lapid into his coalition could kickstart a new peace effort, as he has made negotiating a two-state solution a key part of his platform.