Egypt's "state of emergency" has continued unabated today as yet another wounded protester died in a hospital, bringing the toll of the week-plus demonstrations to 57 killed, and well over a thousand wounded.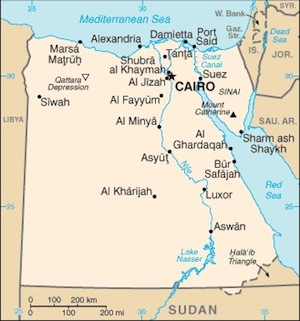 Sunday appears to have been relatively quiet, with security forces reporting no major clashes with the demonstrators, just two days after protesters were throwing firebombs at the presidential palace in Cairo.
The protests began a week ago Friday, and saw massive violence last weekend in Port Said. The rallies have continued throughout the 10 days since, with protesters condemning President Morsi across much of the country and Port Said demonstrators angry about a court verdict related to a soccer riot.
The protests have taken on a political tone in recent days, with opposition figures urging Morsi to give them positions in the interim cabinet in return for them calling off rallies, and some protests cropping up to condemn the opposition for offering that. Morsi has insisted no changes will be made in the government until the April parliamentary elections.