Israeli Prime Minister Benjamin Netanyahu's list lost considerable numbers of seats in today's election, but he still spun it as a victory, insisting his continued plurality proved voters wanted him to remain in his position, and sought to shift attention to Iran.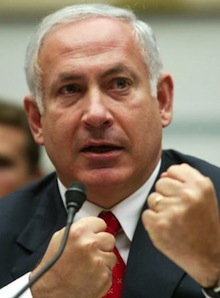 Delivering what his party called a "victory speech," Netanyahu insisted that he intends to put together a broad coalition with the new government's first challenge being "preventing Iran from obtaining nuclear weapons."
Of course Iran doesn't have nuclear weapons, and repeated claims from Netanyahu that the nation's enriched uranium stockpile is nearing a "red line" have fallen by the wayside since Iran continues to use civilian enriched uranium for civilian purposes.
The prime minister's desire to start a war with Iran has been a major focus of criticism from the center-left, and from retired security officials who say his single-minded determination to start a war is reckless and putting Israel at risk was likely at least part of the reason his list lost seats, though polls showed most Israeli voters by and large disinterested in foreign policy, and the exact amount of impact it had is impossible to gauge.