African Union troops attacked a number of homes in a pre-dawn raid against the town of Leggo in southern Somalia today, killing seven or eight civilians, including five children.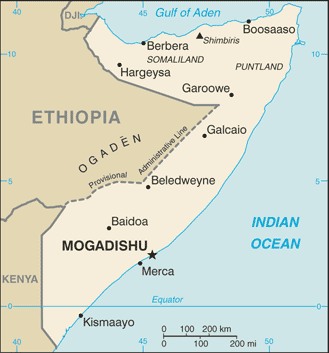 Local leaders say that the troops attacked the homes indiscriminately, and killed camels and goats outside. The elder of the town speculated that the AU had mistaken the homes for a "rebel camp."
African Union commander Salvatore Harushimana confirmed the incident, expressing "condolences" for the deaths, but claimed that the troops were in the process of repelling an attack by rebel forces, claiming the civilians were caught in a crossfire.
Oddly, none of the residents, nor the MPs from the Somali government who commented on the situation, mentioned any sort of battle in Leggo, and all suggested that the attack by the AU forces came totally unprovoked.