Virtually the entire rest of the planet has criticized the Israeli government for settlement expansions, but recent quotes in the press in which Obama termed Netanyahu's policies as risking isolation have sparked a furious backlash from the Likud Party.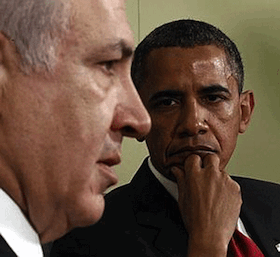 Likud officials railed against Obama for "gross interference" in the elections, which are scheduled for a week from today. Environmental Minister Gilad Erdan also condemned the columnist for quoting Obama, saying he was pushing a "far-Left" agenda.
Officials suggested that the move was "revenge" on Obama's part for Netanyahu's open endorsements of Gov. Mitt Romney and criticism of Obama's reluctance to start a war with Iran ahead of the November's US vote. Netanyahu was criticized by rivals for being outspokenly pro-Romney ahead of the vote, saying it risked a backlash if Obama eventually won.
Likud MP Danny Danon downplayed the significance of the column, however, saying that the columnist had a "right" to write the article since he's Jewish, and that Obama's criticism was just likely to give the Likud-Beiteinu list more seats in the vote at any rate.