Retired General H. Normal Schwarzkopf Jr, the leader of Operation Desert Storm, died today reportedly from complications dealing with pneumonia. He was 78.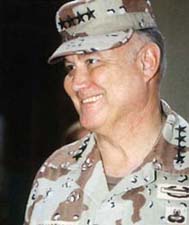 Starting his military career in West Berlin, then later as an adviser to the South Vietnamese Airborne Division, Schwarzkopf rose steadily through the ranks and became a full general in 1988, when he was made head of CENTCOM.
Not long after, Schwarzkopf commanded Operation Desert Storm, the 1990-91 invasion of Iraq. He was offered the position of Army Chief of Staff after the war but declined and retired instead.
His retirement was mostly a quiet one, though he was once again thrust into headlines in 2003 when he expressed concern about the upcoming US invasion of Iraq for a second time, saying he was uncomfortable with Defense Secretary Donald Rumsfeld's war plan.
In the end the retired general relented and endorsed the war, claiming he was convinced by Colin Powell's forged evidence of Weapons of Mass Destruction in Iraq, which was presented to the United Nations in the lead-up to the invasion.
Though he endorsed President Bush in 2000 and 2004, Schwarzkopf's dissatisfaction with the Iraq War was repeatedly made public, and in 2004 he once again lashed Rumsfeld for "mishandling" the occupation.
After this, Schwarzkopf kept an even lower profile, endorsing Sen. John McCain (R – AZ) for President in 2008 but mostly focusing on charitable endeavors in his final years.
Last 5 posts by Jason Ditz