A suicide car bombing struck Forward Operating Base Chapman in the Khost Province today, killing three Afghans and wounding seven others  in an attack on the eastern gates of the base. A police officer was among the slain.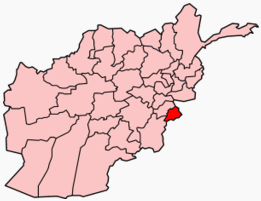 FOB Chapman, readers may remember, was the site of the massive December 2009 bombing attack which killed a large number of CIA agents, an attack which was the single deadliest against the agency in its history.
Taliban spokesman Zabihullah Mujahid claimed credit for the attack, saying the attacker was a Taliban fighter named Omar who "knew the area very well." NATO insisted none of the casualties were from its forces.
Provincial officials say that the attacker detonated the car bomb when the police officer came to search the vehicle before giving him access to the base. The identities of the other two slain in the attack are unknown, but appear to have been bystanders.