The repeated expansion of settlements in the occupied West Bank have been in part aimed at spiting the Palestinians, in part spiting the international community, but mostly, it seems, about winning votes.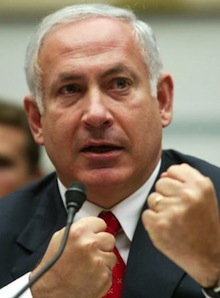 Speaking at a campaign rally today, Prime Minister Benjamin Netanyahu promised to continue expanding the settlements over the next four years "despite international pressure," insisting it was vital to Israel's "security interests" to do so.
With the ruling Likud-Beiteinu list's leadership calling for their platform to overtly abandon calls for a two-state solution, expanding deeper and more intensely into the West Bank looks to be the list's centerpiece issue.
The Gaza War was initially supposed to be the campaign's focus, but took a back seat when early polling suggested that the Israeli public, sold on the idea of war for its own sake, was not happy that the government negotiated a truce. With voters being courted by the even farther-right on the idea that Likud-Beiteinu is "soft," expanding the settlements appears the simplest way for them to shore up their hostility to Palestinian statehood.