The USS Dwight D. Eisenhower has reportedly arrived off the coast of Syria in recent days, having passed through the Suez Canal and joined a team of other ships loitering off the coast in the event President Obama orders a US invasion of Syria.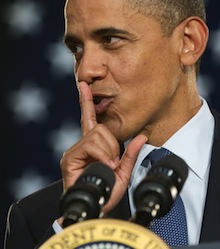 Analysts who see this as a prelude to a major new war say that it brings enough forces into the immediate area to start a war at any time, weather permitting, and speculation that a war could begin in a matter of days.
On the other hand while the deployment seems to be at least a chance for US bluster against Syria, it appears oddly timed for an actual war plan, coming just a week after the US Navy announced the Eisenhower was being returned to the US later in December for maintenance.
The US is shorter than usual on carriers in the region at the moment, with the USS Nimitz undergoing extensive and unexpected repair work. The Eisenhower was initially supposed to come back to the US in early 2013 for repair work to its flight deck, but has instead been ordered back early for less extensive repairs before a protracted deployment to cover up for the Nimitz.
It's hard to imagine then that the US would deploy the aging Eisenhower, just weeks before it's due back for repairs, to start a major war. The more likely explanation is that the Eisenhower was slowly making its way back to the eastern US and is just making a stop-off near Syria for show.