Pentagon spokesman George Little appeared to move into the next stage of "denial" on the captured US drone that the US Navy yesterday insisted absolutely could not be a US drone, noting that it "looks US-made."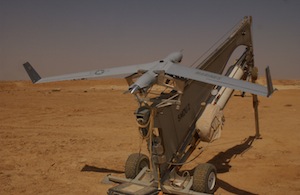 Images of the drone, likely a Boeing ScanEagle, have been released by Iran, which responded to the Navy's claims that they "aren't missing any drones" by urging them to count again, because the drone definitely came from somewhere.
Iran is also claiming to have extracted "intelligence" from the drone, though Little noted that the extremely low-tech ScanEagle's contents would likely be a minimal value at any rate.
That seems to be the case, as the drone is of the low-end "slingshot into the air and crash into the sea to recover" variety that the Navy is so fond of recently. It is a military version of the SeaScan, itself a civilian drone used to track tuna schools.