After a primary that was marred by technical problems over the weekend, Israel's ruling Likud Party has issued unofficial results showing a surprisingly extreme shift in sentiments, with three current cabinet ministers find themselves on the outside looking in.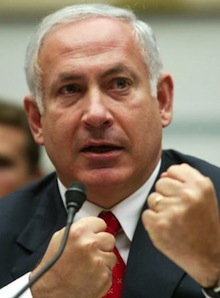 The three ministers, Benny Begin, Dan Meridor and Michael Eitan, are all long-standing MPs perceived as the more moderate wing of the party. At number 20 on the list Begin might conceivably be re-elected, but the others are almost certainly out, especially now that Likud is running a combined list with the even farther right Yisrael Beiteinu.
In their places, the primary voters threw support toward Likud's most extremist members, with Moshe Feiglin, who has praised Adolf Hitler for his "exemplary regime" and has called for the expulsion of not only Palestinians but Israeli Arabs from the nation, is virtually certain to enjoy his first term in the Knesset.
With the Beiteinu merger and the dramatic rightward shift in their own party, opposition parties are chomping at the bit to campaign against the increasingly chauvinistic and extremist ruling bloc. The big question is whether there is enough appetite among left and moderate voters left to change the result, or if Likud's primary is just reflecting Israel's current political reality.