More than half the people who donated money to Israeli Prime Minister Benjamin Netanyahu's reelection campaign are Americans who also donated to the Romney campaign and/or the Republican Party.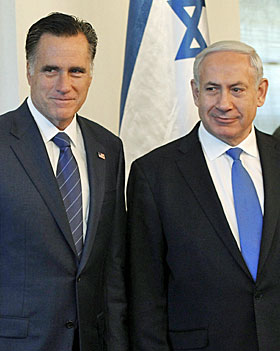 "According to records published by Israel's State Comptroller office," reports McClatchy, "Netanyahu has received donations from 47 individuals. Only one of them was Israeli, and 42 were American. Twenty-eight of the American donors also gave to Romney and/or the Republican Party.
Romney and Netanyahu have known each other for years, done business with each other, and their acquaintance has been a campaign issue in the past, with accusing Netanyahu of displaying an improper preference for Romney over Obama.
But the real question is what would motivate so many wealthy American Romney supporters to send money to Netanyahu's campaign. US policy towards Israel hardly changes between Democratic and Republican administrations.
One of the major donors, the Falic family of Miami, not only donated to the Netanyahu and Romney campaigns but also to pro-settlement groups of Israeli Jews settling in the occupied West Bank.
The revelation reveals how bizarrely close the politics of Israel and the United States are, and how bold the Republicans are about bolstering right-wing elements in Israel (two of Netanyahu's donors also gave to the Democrats).
But it also reveals the joint commitment many in the US and Israeli political class have to denying Palestinians rights. The defunct peace process has never been so broken, and that is primarily because Netanyahu has no interest in a two-state solution. His Likud Party Charter declares Jewish settlement in the West Bank and Gaza as "the realization of Zionist values" and describes the whole of the West Bank and Jerusalem as belonging to Israel.
The quirky ideology of the extreme right-wing in Israel could have some further compatibility with Romney's religious Mormonism, which has traditionally taught, according to Wikipedia, that "its adherents are either direct descendants of the House of Israel, or are adopted into it."
Political scientists David E. Campbell and Robert D. Putnam have performed surveys showing that "the religious group that gives them the highest rating of all" are "Jews."
The Netanyahu campaign refused to comment on the findings, but one of his aids spoke to McClatchy on condition of anonymity and said the prime minister considered America a "natural place to fundraise."
"They have always welcomed Netanyahu with open arms in the United States. The people, the donors there, could not give to him enough," the former aide said. "And he and Romney also share a lot of natural friends."