There are few ways in which most world leaders can ever be called reasonable men, but visiting with European envoys today Israeli Prime Minister Benjamin Netanyahu laid out what is perhaps the most overtly unreasonable foreign policy position possible with respect to Egypt.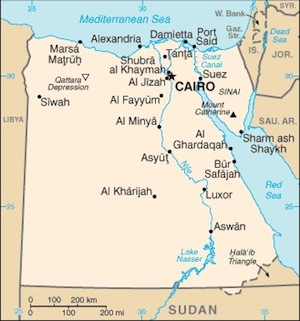 Continuing to play up the "hard line" stand toward Egypt's new government, which is sure to become an election issue, Netanyahu ruled out any changes to the peace deal with Egypt, saying it was impossible to deal with people who want to review agreements "twenty years later" (technically it was over 30 years later).
At the same time, Netanyahu laid out demands for Egypt to deal with the growing number of militant factions in the Sinai Peninsula, saying Israel would not tolerate the peninsula becoming a "base for world terror groups that operate against us."
Either position by itself might seem at least plausible, but together one must remember that the whole reason some in Egypt are calling for a "renegotiation" is explicitly because of the Sinai problem, because the current pact limits Egypt's ability to deploy troops into the peninsula to fight militant factions.
Netanyahu's comments echoed those of deputy PM Dan Meridor, who said the effort to renegotiate the deal 33 years after it was finalized proved that Israel should never negotiate peace deals with any nations under any circumstances.
Yet in the end, this effort by Israel's leadership to have its cake and eat it too on Egypt simply can't work. Netanyahu's government loves crackdowns and loves having neighbors under its thumb, but in this case the one is getting in the way of the other.