The first day of the Pakistani Tehreek-e Insaf (PTI) protest march against US drone strikes has come to an end in Dera Ismail Khan, a key city on the road to the tribal area. They plan to leave for South Waziristan Agency in the morning.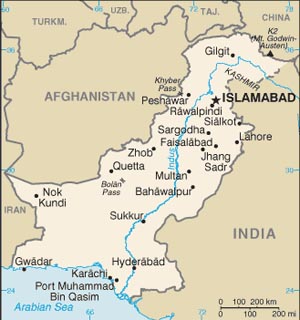 At least that's the plan, but Pakistan's government and the Tehreek-e Taliban Pakistan (TTP), as well as US diplomats seem to be united against seeing the rally happen, and with the government closing the only road into the agency, what will happen is very much in doubt.
The TTP have warned PTI leader Imran Khan against continuing the march, accusing him of trying to use the issue of drone strikes for political gain and insisting that they consider him a "secular personality."
Pakistan's government is predicting TTP attacks, even though the TTP doesn't seem to be threatening anything specific, and the US has continued to caution the Americans involved in the rally not to participate, insisting they have "credible" intelligence that the march will be attacked.
Khan, who is at the head of the rally, has condemned the government for trying to stop the march, and insists that they will continue on to South Waziristan regardless of any threats put in their way.