Though the indications from Turkey's political leadership are that they are winding down the clash and not looking to escalate, Turkish forces continued to attack northern Syria today, with artillery shellings centering on the town of Tel Abyad.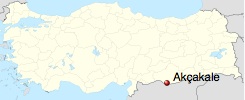 Exactly details of the damage done in two days of Turkish strikes into Syria have not been released, but several Syrian soldiers were reported slain in today's strikes, with Tel Abyad serving as the contested center of the dispute.
Tel Abyad is the Syrian town along the border with Turkey and was recently captured by the rebels. The crossing in the town links it to the Turkish town of Akcakale, which Syrian shells hit yesterday, killing five civilians.
The border crossings into Turkey are key targets for the rebels, as it provides them access to fighters and equipment from Turkey, which is more or less openly backing them in the ongoing Syrian Civil War. The Tel Abyad-Akcakale crossing is one of seven border crossings between Syria and Turkey, and one of three currently held by the rebels.