A Taliban suicide bomber on a motorcycle full of explosives rammed into a joint US-Afghan patrol in Khost City today, killing 14 people, including three US soldiers, a translator, four Afghan police and six civilian bystanders.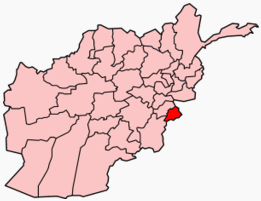 Witnesses say that the bomber was wearing an Afghan police uniform, and drove headlong into the patrol, detonating near a crowded market. The explosion also wounded 59 civilians, most lightly.
Taliban claimed credit for the attack, naming the bomber as Shoiab Kunduzi, and saying they targeted the patrol when it was near the Khost Provincial Governor's Office. It is the third suicide bombing in Khost City in the past five months. The other two targeted the US base on the outskirts.
NATO officials, as usual, provided few details of the incident, refusing to confirm that the three NATO soldiers slain were Americans or that the incident occurred in Khost. The confirmations came unofficially by way of the US government and the Khost Provincial government.