A pair of suicide bombers attacked a popular restaurant in central Mogadishu today, targeting a group of Somali government officials and members of the state-run media who had gathered for tea. At least 15 people were killed.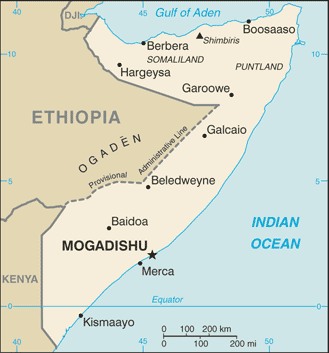 The restaurant is down the street from the presidential palace, and is said to be a popular spot for both government workers and foreigners. Al-Shabaab is presumed to have carried out the attack, though no public claims to that effect have yet been released.
UN officials condemned the attack, saying that there was no way that acts of terrorism would "reverse the recent achievements" in Somalia. He gave no indication what those achievements actually were, as Somalia seems to be in roughly the same tenuous position as it has been since the self-proclaimed government was booted from Kenya for not paying their hotel bill and came to Somalia to make a go of it as a UN-backed regime.
Those familiar with the attack say that the death could might still rise further, as a number of critically wounded people have been rushed to the hospitals in the area.
Last 5 posts by Jason Ditz