Canadian officials are seeking to deflect criticism tonight over their ongoing refusal to approve Omar Khadr's repatriation from Guantanamo Bay, saying that the US is actually to blame for what is now nearly a full year's delay.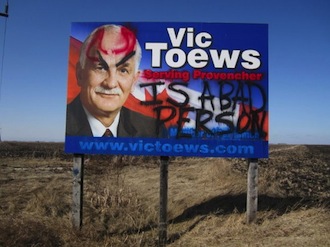 Khadr was a child soldier captured by the US in Afghanistan in 2001, and eventually sentenced to 40 years in prison for "terrorism." The sentence, handed down in October 2010, only required him to spend one additional year in Gitmo before being transferred to Canada, where his case would likely be reviewed owing to his young age and limited evidence again him.
But when October 2011 rolled around, no transfer happened, and indeed no request was made. Public Security Minister Vic Toews, who is supposed to be responsible for this, even refused to acccept the application for Khadr's return, saying that he didn't get official approval from the US to accept the application.
Critics say this is a lousy excuse, especially because the Gitmo military tribunal's sentence explicitly approved the transfer at the time of conviction. Khadr's lawyers are pressing the Canadian federal court to demand Toews actually follow through, but this is likely to add to the delays, leaving the former child soldier staring down another birthday in custody.