Moammar Gadhafi's son Saif al-Islam Gadhafi won't be leaving Zintan any time soon. After months in custody if the Zintan militia, the central government has announced that it has agreed to send three judges to the city and try him there.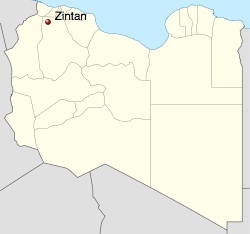 The announcement is sure to draw additional scorn from the International Criminal Court (ICC), which has called for him to be turned over to the Hague for trial and said they don't believe he can receive a fair trial inside Libya.
Zintan's militia had repeatedly ruled out turning over Gadhafi to anyone, and made international headlines in June when they captured an ICC delegation visiting Gadhadi, accusing them of "trying to pass forbidden materials" to him.
Some portions of the trial will be open to the public, but much of it will be held in secret, officials say, as they are concerned prosecution witnesses could face assassination. If convicted, Gadhafi is likely to be sentenced to death.