Hundreds of supporters gathered around the Ecuadorean Embassy in central London today to hear a high-profile speech from WikiLeaks founder Julian Assange, who has been granted asylum within the embassy, much to the chagrin of British officials.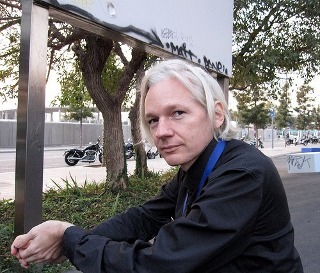 Speaking from the balcony, Assange thanked Ecuador and his supporters, while urging the United States to stop persecuting WikiLeaks and end its "war on whistleblowers."
Assange also accused British police of having actually raided the embassy on Wednesday night, claiming he could hear them in the internal fire escape, but credited his supports with keeping an eye on the embassy to prevent them actually carrying out threats to arrest him in violation of the Vienna Convention.
Assange's speech was about 10 minutes long, and he had to be careful of the content because the official conditions of his asylum prohibit him from making any political speeches while in the embassy. Assange warned that there was "unity among oppressors" in trying to silence whistleblowers and urged his supporters to by just as united against them.