A group of men dressed in Pakistani Army uniforms attacked a civilian bus north of Rawalpindi today, forcing 25 Shi'ite civilians off the bus and shooting them at point blank range.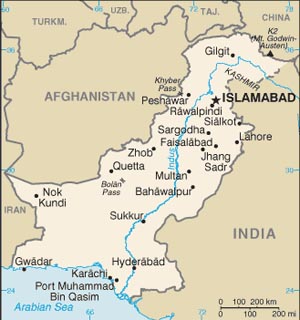 Several attacks against Shi'ite pilgrim buses have taken place in recent weeks, mostly in Balochistan and along the frontier with neighboring Iran. Today's bus, however, was headed north to Gilgit-Baltistan.
So far no group has claimed credit for the attack, but a number of Sunni militant factions have made a habit out of targeting Shi'ites as part of their broader ambitions. Pakistan's government has increased security for Shi'ites but it seems to be doing little.
Pakistan has the second largest Shi'ite population of any nation in the world, behind only Iran. Traditionally Sunnis and Shi'ites in Pakistan have gotten along with only minor tensions, but the increase in wars around the periphery, especially in Afghanistan, have boosted the profile of aggressive Islamist groups.