A group of unnamed militants have attacked another checkpoint in the Sinai town of El-Arish today, causing no casualties but adding to skittishness about the Egypt-Israel-Gaza border as the Egyptian military continues to mass forces in the region.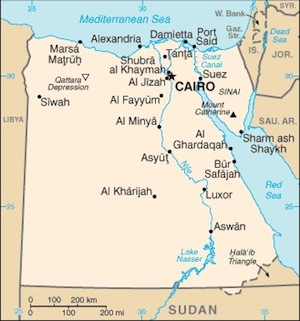 It was the second attack on a checkpoint in less than a week, after a weekend strike targeted a border police station, sacking it and killing 16 police. Egypt's military responded by shelling a Sinai village, killing 20 suspects.
Growing insecurity around the border has led Israel to finally approve of an increase in Egyptian troops in the peninsula, and President Muhamed Mursi toured the region today, promising a broad crackdown on terrorists in the Sinai.
Even the local Bedouin tribes are reportedly okay with the offensive, despite the prospect of it bringing fighting into their villages. A number of tribal leaders have met with the Interior Ministry and approved of plans to move against militants as well as to destroy Gaza smuggling tunnels.