In an interview with Israeli Channel 10 today Defense Minister Ehud Barak confirmed that he has ordered the military to prepare for a full-scale invasion of neighboring Syria, with the goal of seizing weapons from the Syrian military, currently embroiled in a civil war.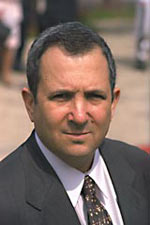 Barak sought to justify the move, saying that it was possible Syria might transfer "anti-aircraft missiles" or even chemical weapons to Hezbollah, a militant faction operating out of neighboring Lebanon.
There were some reports that Syria was hoping to ditch some of its less useful weapons on Hezbollah, because they weren't of much value in the ongoing civil war and were costing resources to protect from looters. Though this would be the case with some weapons, it is unlikely Syria would want to reduce its anti-aircraft arsenal, particularly with Western nations chomping at the bit for a NATO attack and imposed regime change.
Early this week it had been reported Israel was considering such a step, and that Pentagon officials had been dispatched to try to talk Israel out of the invasion, warning it would bolster Assad's position.