Former Palestinian Authority President Yasser Arafat's death has long been considered suspicious, but his widow is calling for his body to be exhumed tonight following the revelation that new tests showed he may have been poisoned with radioactive polonium.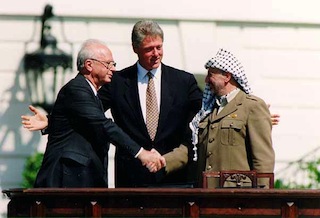 The tests taken on his personal effects by the Institut de Radiophysique in Lausanne, Switzerland says they found "surprisingly high" levels of polonium-210 in his belongings. The institute said this wasn't conclusive without testing his body, and medical reports would not be consistent with the poisoning claim.
Arafat's health precipitously declined in late 2004 with no apparently explanation, coming just months after then-Israeli Prime Minister Ariel Sharon said he no longer felt bound by his promise not to assassinate Arafat. At the time there was no cause of death, but doctors said they didn't find any known poisons.
Some of Arafat's supporters and family members have speculated he was killed by the US, or Israel, or both. In 2009 the Fatah Party's Congress also declared Israel responsible for the death, which sparked a series of threats from Israeli officials and declarations that the peace process was over.
In 2011, Fahmi Shabana, a member of Palestinian intelligence who has involved in the investigation of Arafat's death, had explicitly claimed he was poisoned with polonium by his political rivals.