It is now Saturday morning in Egypt, and the nation's voters are beginning to trickle into the polls for a presidential runoff vote between Air Marshall Ahmed Shafiq and Dr. Mohammed Mursi.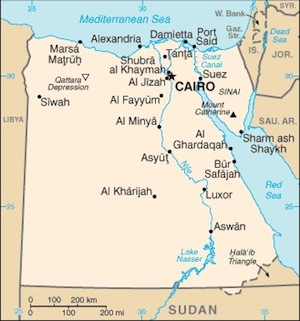 There is a lot at stake, but looming large over the vote are Thursday's Supreme Court ruling ousting the entire parliament and the military junta that seems determined to keep its grip on power at all costs.
With parliament now gone, the election is going to leave either Shafiq or Mursi as the only elected official in Egypt, ruling over an ill-defined system of government with virtually no formal checks on their power. Particularly if the military's favored candidate Shafiq wins, this could be a recipe for a new presidential dictatorship, with Shafiq replacing the man he says is his role model, Hosni Mubarak.
With the liberal revolutionaries having no favored candidate in the run-off, the results and the turnout are very much a mystery, and voters are expected, if they vote at all, to focus on which their fear most, a return to the Mubarak era or an Islamist government.
But do they have a choice? The junta has been keen to move against Dr. Mursi's Freedom and Justice Party, and was all too eager to dissolve the FJP-dominated parliament after the court ruling. Mursi expressed his own concerns today that vote-rigging was a possibility, warning that his followers wouldn't stand idly by if this happened.