Following the retreat of Ansar al-Sharia forces out of Zinjibar and Jaar earlier this week, the Yemeni military has pressed its offensive into other cities, reporting that it has "routed" terrorists in and around the town of Shuqra with 48 killed.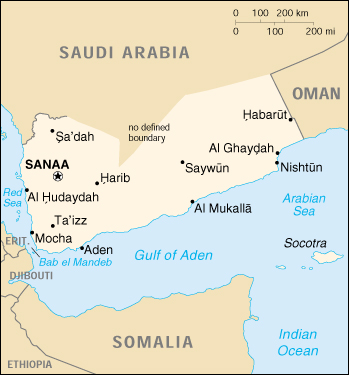 The toll in Shuqra includes a number of civilians, however, with one Yemeni official conceding that at least six civilians had been slain in air strikes against the town. Another official said there could be as many as eight civilians.
The town is one of just a handful in Abyan Province still under militant control. Ansar al-Sharia spokesmen explained the retreat from Jaar by saying they didn't want to leave civilians in harms way, given the growing amount of shelling and air strikes against the town.
Ansar al-Sharia took virtually the whole province in June of last year, a victory that surprised many and fueled speculation that then-ruler Ali Abdullah Saleh deliberately lost the province to try to con the US into giving him more military aid. The current offensive is being backed by US drone strikes and a US advisory group on the ground.