Speaking today on ABC's This Week, Secretary of Defense Leon Panetta reiterated comments made in the past by other officials that the US is "ready" to launch a military attack on Iran and will do so as soon as President Obama decides to.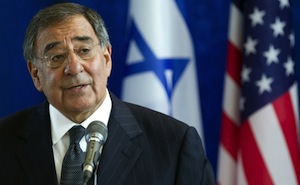 "We will do everything we can to prevent Iran from developing a weapon," Panetta added, ignoring that US intelligence agencies agree Iran is not attempting to do anything of the sort. Panetta claimed only last week that an attack was not being considered.
Panetta's comments come just days after the end of the last round of diplomatic talks with Iran, which ended with no agreement, but a promise to meet for more talks next month in Moscow. An expected deal fell apart when the US announced that it would never accept Iran's civilian uranium enrichment.
Panetta went on to say that the "international community's been unified" on the move, and that the Pentagon is ready for any possibilities of an attack on Iran. Despite this claim, it seems clear that neither Russia nor China is "united" on the call to war.