Tens of thousands of protesters took to the streets of Bahrain's capital city of Manama today, condemning King Hamad al-Khalifa for agreeing to enter a formal union with the Saudi royal family.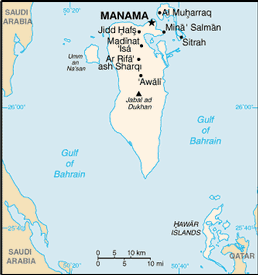 The deal has the island's Shi'ite majority up in arms, interpreting the plan as a thinly veiled attempt by the Saudis to sideline their calls for democratic reforms. Saudi Arabia invaded Bahrain last year to help crush pro-democracy protests.
The exact terms of the union have been nebulous so-far, but officials have said it would unify the Saudi and Bahraini states on security, economic and diplomatic policies. Considering how much larger Saudi Arabia is, many have criticized it as a de facto annexation. The Saudi royal family had also expressed hopes to include Kuwait, Qatar and others in the "union," but they have been more resistant.
This is particularly true in Iran, where a number of top civilian and religious officials have condemned the union as an attempt to sideline the calls by Bahraini Shi'ites for equal rights under the law. Ayatollah Emami-Kashani accused the US of helping to draw up the plan.