Air strikes pounded Yemen's Abyan Province today, with a number of strikes being carried out by US drones. Overall 17 people were killed. Yemeni officials claimed all the dead were "al-Qaeda," but the bulk of the deaths were in Zinjibar, which is currently under the control of Ansar al-Sharia, not al-Qaeda. Yemen's government rarely acknowledges the distinction in public comments.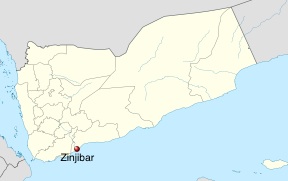 US officials, as usual, provided no comment on the strikes or the deaths, but have been known to have carried out a significant portion of the strikes in Abyan over the past several months, backing the government of Maj. Gen. Abd-Rabbu Mansour Hadi.
The Abyan Province has seen significant fighting since last June, when Ansar al-Sharia ousted the military and took the capital of Zinjibar. Since then, Yemeni forces have repeatedly tried to reconquer the province, but have lost several major battles.
Maj. Gen. Hadi ruled out any negotiations with Ansar al-Sharia, insisting that they only understand the language of the military. The comments came amid a flurry of rumors that Hadi is planning another massive offensive against the province.