A Macedonian court has ordered 30-day detentions for five people, all ethnic Albanians, over the deaths of five fishermen late last month. The Interior Ministry has issued an international arrest warrant for the two not already in custody.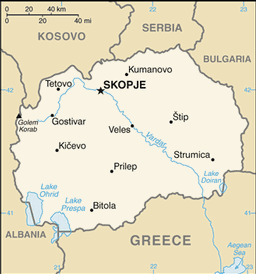 The move follows up on mass arrests earlier in the week of 20 Albanian Muslims on charges of terrorism, which ended with Interior Minister Gordana Jankuloska terming them a "threat to Christianity."
The deaths of the five fisherman, found near the Hekurana Lake, have fueled tensions between the Orthodox Christian minority of Macedonia, and the mostly Muslim Albanian minority, which has been blamed for the deaths.
1,500 ethnic Albanians took to the streets of the capital of Skopje, demanding fair trials for the accused and chanting "Albanians are Muslims, not terrorists." Macedonia has the fourth largest Muslim population in Europe by percentage. Around one third of the tiny republic's 2 million people are Muslim.