Pakistani Prime Minister Yousef Raza Gilani's term, already the longest in the nation's history, is under serious threat today as the Supreme Court has convicted him of contempt of court for refusing to implement a 2009 ruling that dubbed the National Reconciliation Ordinance (NRO) unconstitutional.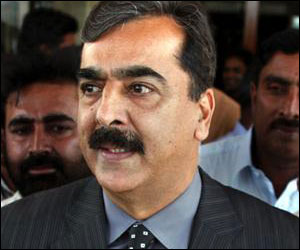 The NRO was passed under former junta leader Pervez Musharraf in 2007, and granted full amnesty to all politicians accused of corruption, murder or terrorism. The initial 2009 ruling was seen to revoke that immunity, and led to arrest warrants against a number of members of the current cabinet, including Interior Minister Rehman Malik, though none of the warrants were ever carried out.
Gilani went further with this when the Supreme Court ordered him to cooperate in a Swiss government money laundering case against President Asif Ali Zardari, refusing to cooperate and insisting that he was immune to such cases. The contempt of court ruling was the result of missing yet another ultimatum to implement the order.
A contempt of court conviction bars one from serving in the Pakistani parliament, and would seemingly mean the end of Gilani's term. Despite this, Justice Minister Farooq Naek insisted after the ruling that Gilani remains the prime minister because today's ruling didn't explicitly remove him from office. A more detailed verdict is expected to be released in the coming days.
The conviction could have borne a maximum 60 days in prison, but the court sentenced him to be held only until the court was out of session, an estimated 30 seconds according to witnesses. Given how irked the Supreme Court has been at the lack of progress on the NRO verdict, this is surprisingly lenient and may be fleshed out more when the full verdict is released.
Though Gilani insisted he will remain in office, and expects to appeal when the detailed verdict is released, he is facing a growing number of calls to resign, with opposition figures saying that his conviction makes his continued rule all but impossible.