US drones attacked a vehicle in the southern Yemeni province of Abyan, killing all 12 people in the vehicle. The victims were referred to by the report as members of al-Qaeda in the Arabian Peninsula (AQAP).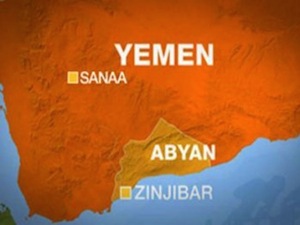 The vehicle was a Yemeni military truck, which was stolen in recent fighting in the region. Despite the claims about the victims' affiliation, most of the fighting with the Yemeni military in Abyan has involved Ansar al-Sharia, not AQAP.
Fighting in Abyan and the surrounding area has continued to escalate with major battles over the key town of Lawdar along the highway north of Abyan's capital of Zinjibar. Yemen's military claimed to have killed 72 "suspects" in its own operations today.
The US has been keen to involve itself in operations in Abyan recently, carrying out a number of strikes against targets in and around Zinjibar. The Yemeni military has tried to retake the province from Ansar al-Sharia since June, but has failed in every major effort to confront the rebels directly.