The Sudanese government has recalled its negotiators from South Sudan and announced a general mobilization of its military, signs that the ongoing border tensions between the two nations threaten to escalate into a full scale war.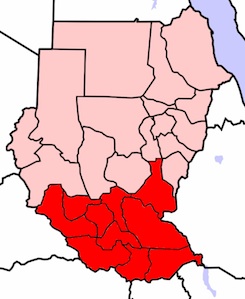 The latest dispute centers around Heglig, a key oil-producing region that both sides claim. On Tuesday, the South Sudanese military captured the region, announcing that it will keep it under their direct control.
Reports that bombardment of the region has already begun sparked a fuel panic in the countries, and Sudan demanded the immediate withdrawal of troops from Heglig, threatening a major strike "deep" into South Sudanese territory if they didn't.
Both countries seem to be preparing their populations for the war as a foregone conclusion, and both are claiming that the other side has already launched ground invasions, though neither can actually be confirmed. Sudan's Foreign Ministry is even claiming that South Sudanese troops have marched some 70 km into Sudan as of this evening.