In an attempt to distance himself from the previous regime, and solidify his own control over the military, Yemeni President Abd-Rabbu Mansour Hadi announced today that he has fired two top members of the military, both of them relatives of former President Ali Abdullah Saleh. He also announced the firing of "scores" of other loyalists to Saleh.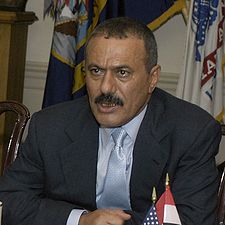 This included Mohammed Saleh al-Ahmar, his half brother, and the former head of the Yemeni Air Force. This firing was seen as inevitable, as Ahmar was blamed for the massive death toll in the military's defeat in Abyan in March. Ahmar refused a direct order to evacuate wounded soldiers after a military base fell in the southern province.
The other fired chief, General Tarek Mohamed Abdullah Saleh, is the former president's nephew. His firing was not as readily explainable, beyond the questions his close relation to Saleh inevitably raise.
The bigger surprise perhaps was that Brigadier General Ahmed Ali Abdullah Saleh, the former president's son, was left untouched. The head of the Republican Guard, Ahmed Saleh was sign as a major competitor to Hadi last year, before the new ruler was announced after a single-candidate election.