A possible Israeli attack on Iran has been the topic of many discussions this week, but attention turns elsewhere today as Israeli warplanes have launched multiple air strikes against the Gaza Strip, killing at least 15 people and wounding 22 others.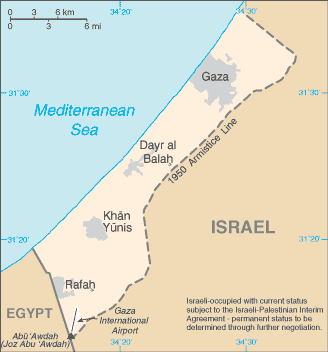 One of the strikes, just west of Gaza City, reportedly killed Zuhair al-Qaissi, the commander of the Popular Resistance Committee (PRC) which was behind the capture of Israeli soldier Gilad Schalit.
The strikes also killed a number of lower ranked members of the PRC as well as the Islamic Jihad's military brigade. The PRC and Fatah's al-Aqsa Martyrs Brigade issued statements taking credit for rocket fire against Israel, and four Israelis were reportedly wounded.
Israeli military officials have been predicting a massive invasion of the Gaza Strip would be launched within the next few months, though today's escalation does not necessarily mean that such an invasion is imminent, it raises the prospect that Israel, perhaps dissuaded from attacking Iran for the time being, will feel the need to start an alternative war in Gaza.